The tourist community of Sausalito comes alive on sunny weekends . . . troves of tourists jam the eateries , galleries, and quaint shops. The house boats of Sausalito were wired to telephone lines . . . all this was necessary before the advent of the cell phone . . . now cell phones out number land lines. How many miles of cable can now be recycled?






Sausalito has long attracted hipsters, artists, poets, philosophers, hippies, and financial leaders. This rusty industrial wheel sure is rusting artistically, few would argue? There is an absurd whimsical quality of the more ragged live aboards. Remember the late great fountain head of enlightenment Rev. Alan Watts? He was a transplant to the docks of Sausalito.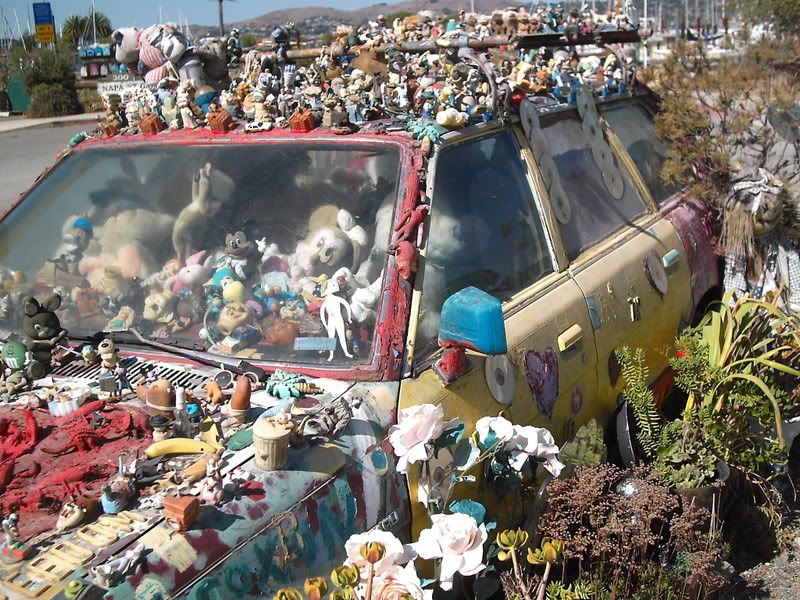 . . . further proof of the fall and decline of the American Empire . . . the art car if you have enough glue and asorted figurines and don't particularly care for areo dynamics . . . perhaps the art car is for you . . . Sausalito is generous with their parking tickets yet no tickets on this car a piece of public art . . . share the beauty.






The sight of a totem pole in Sausalito is not totally uncommon . . . Spirits good and other wise reside near the bay consider a totem pole as a spiritual antenea or not. The home of the great Alan Watts in that whimsical house boat.






Boats and ships have been built in Sausalito for many years.



The celebration of the Day of the Dead near the dock of the bay.




Box on the Docks . . . Sausalito, California "it's in the mail"

just to the south back up on shore . . . Sausalito still leaves the imagination with room to play . . .