[RanchoBozo] [InTown] [SONGS] [FIREpit] [BACKpack] [COOL LINKS] [ELKINsDIET]




October 30, 2005 the most beautiful sunny fall day that San Francisco could possibly muster . . . let Chet take care of the weather "All Reet" . . .





We gathered in thousands to honor Chet Helms, the chief enabler for the San Francisco Sound of the Hippies . . . without dispute . . . we all got to be together one more time . . . thanks Chet






The Stilt People are always a far out addition to any gathering of the tribes . . . I found the butterfly babe most fetching . . . while fluttering above the masses . . .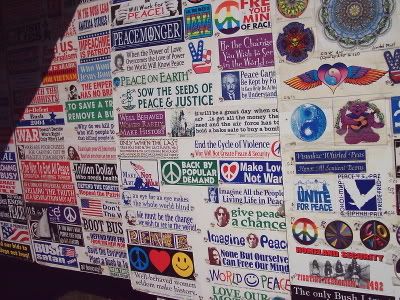 Remember when bumper stickers were kinda popular about twenty five or thirty years ago? . . . well I thought of a bumper sticker back then " STAMP OUT BUMPER STICKER MENTALITY" neat huh?











Costumes that sparkle are always a bonus a shrill reminder that we are all but Vishnu's hollow clowns fooling eachother that we are us or you or me . . . all the stage's a world . . .






The bands played on with the tunes and spirit that transformed the generation that's getting pretty old . . . "I'm Proud to be a Hippy from Olema" . . .






There are always those who know more than you do . . . you know who you are . . . these hipsters are most definately in the know . . . but you knew that . . . right?


The messages are the impressions made by the beholder. This dude could be a poster child for an aging American hippy movement. Do your own thing man if doesn't hurt anybody.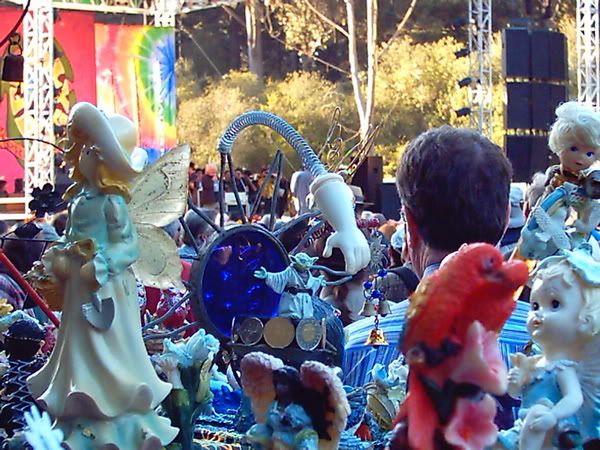 There is an art-omotive-movement (wow cool - that's redundant) there are those artists that take their canvas on the road with imagination whimsy and a glue gun . . . and a mid-sized station wagon . . . taking enviornmental art to the limits in an art car (the 55 mph limit may be making a comeback?). . . this will likely become a feature story on RanchoBozo.com . . .



An Ian Butler & Avril Hughes Film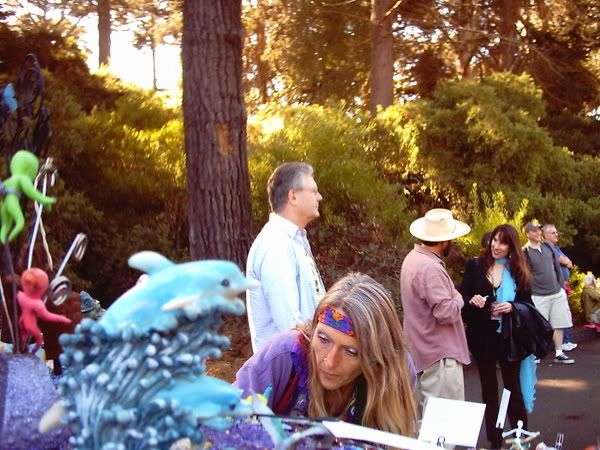 Avril Hughes, a fellow human being and multimedia purple princess of peace . . . well we already have a Purple Pixie and a Canadian Princess . . . now a Purple Princess . . . it just had to be . . . check out her hubby's funny web site: Ian Butler's web something. I recommend listening to "The South End of the Beach" it's the surfin' song that had to be written.










The multitudes it looked as if the chron's hundreds will show prediction was a little off . . . we had the weather, the music, the aging hippies, and all the other ingredients to make this event fly . . . fly . . . it just couldn't fly without the musical pilots and fight attendants. If you look carefully you may find someone in this picture in the witness protection program . . . or not . . . want to see more pictures of the Tribal Stomp? These are brought to you by the people who bring forth Dan Hicks' cyber presence to world wide web world. CLICK HERE To learn more about the hippy movement visit the Hippie Museum! The offical Chet Helms Memorial Tribal Stomp website click HERE!








[RanchoBozo] [InTown] [SONGS] [FIREpit] [BACKpack] [COOL LINKS] [ELKINsDIET] [PHILOS]