[RanchoBozo] [RanchoCristo.com]

Some friends from 2012




Friends of the Island because of their close relationship with the Holy Spirit that gives them (us all)sustinance from the generosity of the lsland and it's pleasant climate and the generosity of eachother. The park is often left cleaner than it was found. Always sharing always giving always grateful to God and to each"Jesus is my best friend and you are my bother a Polite and Gracious people are we. While Wendy and I were in Maui in 2012 I had the good fortune to meet very nice people who hung out at the park beside our condo complex. I became good friends with Uncle Timmy and Michelle. Uncle Timmy was able to live off the land and told me about manna, the grace of the Holy Spirit that flows through the island. He could catch fish with his bare hands, weave palms and tell native stories. Uncle Timmy had the spirit of the trickster. We became friends quickly.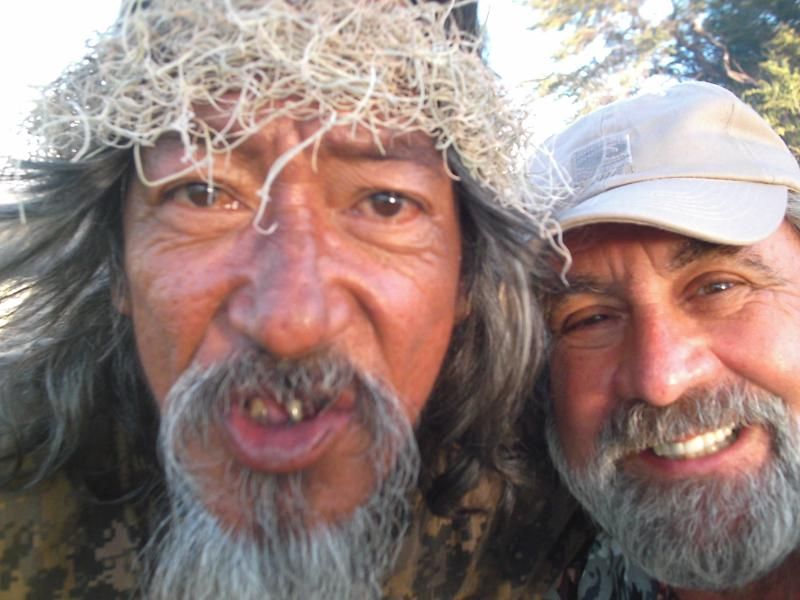 On Good Friday 2013 Uncle Timmy was nearly beaten to death. I found out about this and had to see him. Uncle JR and I took a bus up to Kula Hospital to see him. We didn't know what to expect since the rumors were flying. (the story will be filled out with lot's of pictures on another page on this site) I am grateful for the day I spent with Uncle JR. His words and actions were guided by the Holy Spirit . . . I have no doubt.




Hey Uncle Tony thanks for keeping the mellow tone at the park. Uncle Tony is the native lore and ethos of our family in the park. He's retired from the mason trade. Where ever you go you can find fine stone walls. Uncle Tony built walls all over the island. Love you Uncle Tony!




Uncle JR is an extreemly cool friend he's the barber and counselor. we always kept the vibe . . . at the park my friends find ways to enjoy themselves daily . . . it's great fun when Talon arrives . . . here he plays an American Beauty on the infamous Rancho Bozo guitar (paint job priceless)





Phil aka Philiper aka Phil Up is a true music lover especially when it's blasting from a silver silverado!
Phil has taken on a kinder and more gentle approach and all his brothers and sisters appreciate it!
Thanks for the phone call Phil sorry I wasn't home to get it. Gotta set up a voice mail for that phone number brother.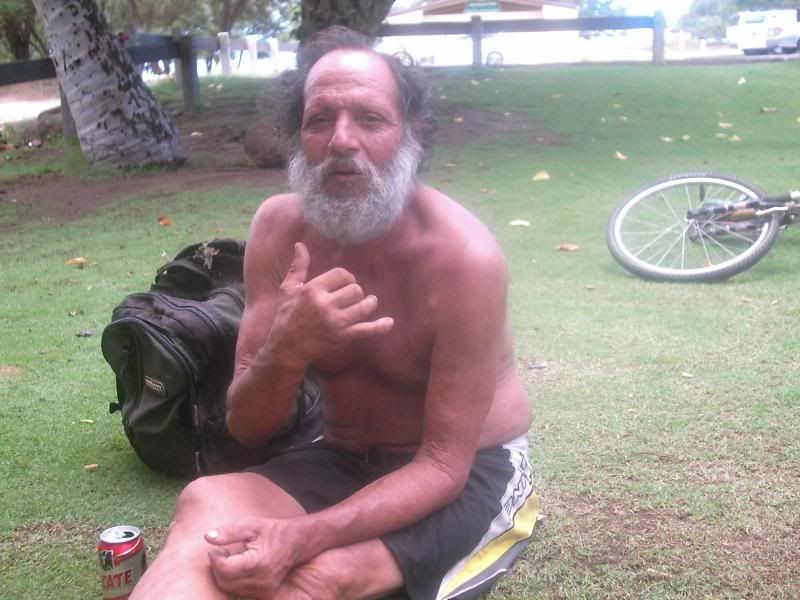 Yo Rain Bow Joe from trimming tall palms to having a joke and story for each and every topic or situation
humble and polite to a fault please sir don't call me sir, Sir . . . gotta love Joe!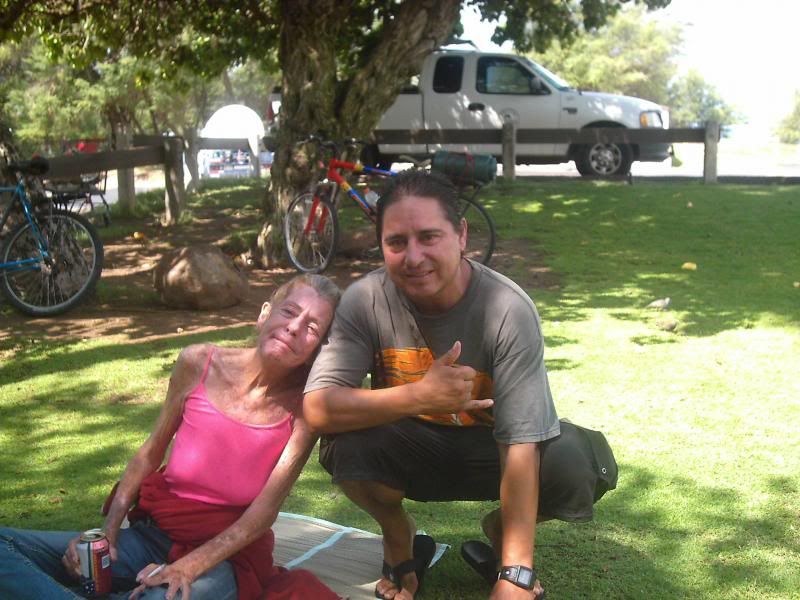 Michelle and Eddie two of my friends both with lots of heart. Michelle had an accident on her bicycle and injured her neck and clavicle but not her spirit. Eddie watched his buddy Captain Wayne-O take a dive but still standing at the comedy club . . . real sense of humor.




Mattew and Lenny . . . good dudes. Matthew is a videographer with loads of experience using the heavy machines mounted on your shoulder . . .
could he be the camera man I'm looking for? We have all shared many important moments I know I'll not forget!




Hey Stanley it is clear you're a happy dude and a straight shooter. Stanley was one of the only one of our friends that appreciated a cup of black and sweet coffee.
It was always a good day to see him arriving on his bike.




I met Mark at the chicken corn and watermelon Q that Wendy and Jamie helped me with. A couple of days later Mark did some tasty Q with steak and sausage using drift wood (made excellent coals) everyone had their fill thanks Mark.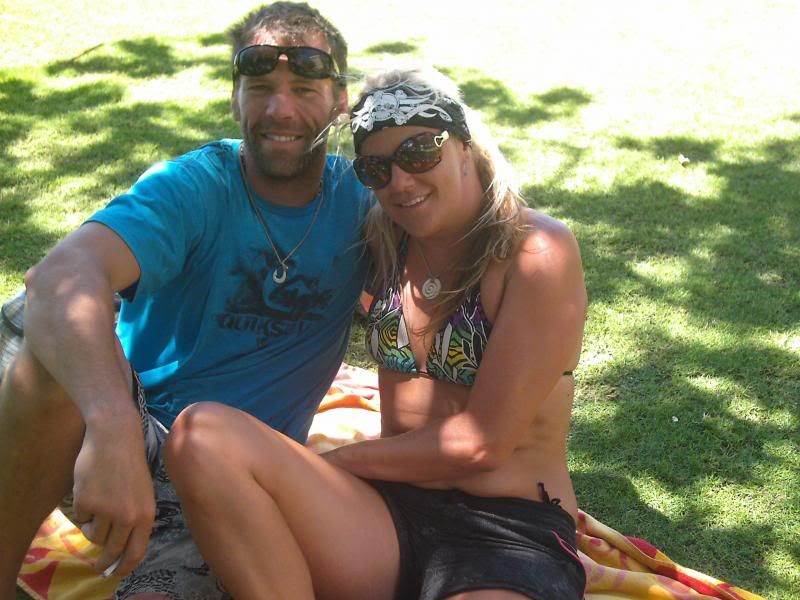 Josh is fine physically and becoming fine spiritually. He's living as my friends live in Maui. He's living a life that's healing and thrilling to a man who's been through more than most of us in his thirty years. The blonde beauty is Bree (as in Breeze)she is a muse of our little park . . . bringing beauty and whimsey to our sometimes motley crew. . . we all share . . . when I thought I lost my camera (and all these pics) and my flip phone . . . Bree wanted to give me her digital camera and her pay as you go phone. We always share.




Tom would often bring great food and drink to share . . . he has found what he was looking for in the island of Maui . . . we all have found what we have been searching for . . . all friends sharing.




day by day different faces and different stories every one seemed to know every one . . . the comfortable vibe of sharing and caring seemed to prevail as we move about seeking shade and companionship and the blessing of the day hurray . . .


looking south from the park around the bogavia is our time share condo . . . calm in the morning breezy in the afternoon . . . we would find shade and exchange stories and a little wisdom now and then . . . sometimes we would celibrate with cheese burgers and a beer in paradise! Who could feel pity for anyone in paradise.

"Yet there is no one richer no one freer, no one more powerful than we are, for we know how to forsake ourselves and all things, and truely put ourselves in the lowest place." Tomas a Kempis