The 40th Aniversary of the Summer Love was blessed with perfect weather in San Francisco's Golden Gate Park and record gatherings celebrating the brotherhood & sisterhood of love and good vibes!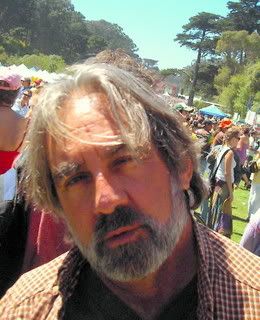 Captain Wayne-O has taken on the task to document this event to the very limits of his $79 aiptek pocket DV5100M and his still developing abilities for RanchoBozo.com! I was just turning sixteen years old and entering my junior year at Highland High in Albuquerque, New Mexico. Music was everything and it couldn't have been better! All over the world the possibility of love and peace was broadcasted through hifi record players, scratchy transistor radios and four/eight track machines in our cars. We believed it was real and we believed we were real special and I guess it really was and we really are. My hair was starting to look good in the back.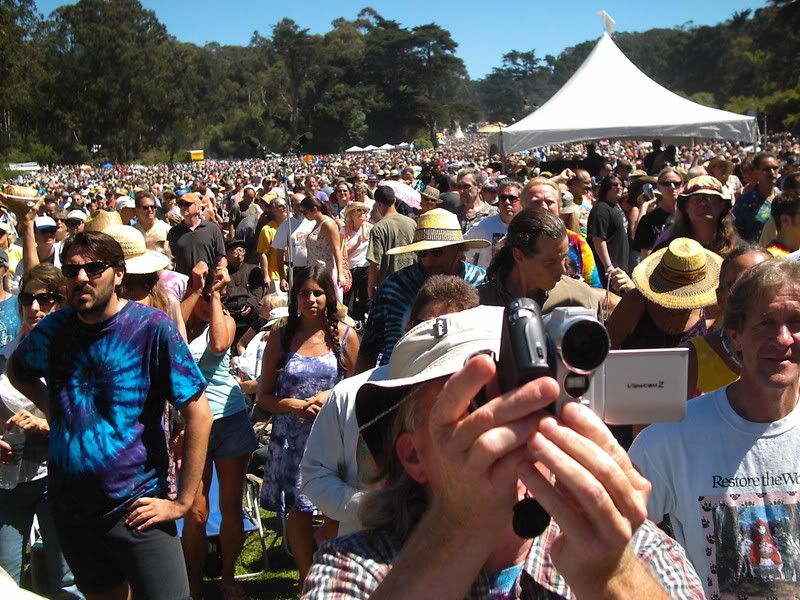 I saw a sea of brightly colored bipeds some had camcorders in their hands . . .

Now witness a mighty river of humans in a man made valley . . . this is what happens when the tribes gather and gather . . . as Arlo once said "lotta freeks!" . . . there really was "a whole lotta love" on this 40th anniversary. Millions of digital images were taken. Here is but a few of them.




A special thank you to all the beautiful people I photographed! I'll post all the ones that turned out OK * just click HERE. Depending on your browser down loading should be a snap. Please feel free to send me an email SuburbianCowboy@yahoo.com . . .
A FREE EVENT just like all best things in life . . .



There will be lots of photos and video coverage of the musical stars that graced the great out door stage at the north end of Speedway Meadows. I will provide links to those better equipped and trained photographers and videographers as their work comes on the net. At this point we have this from the big boys. This effort reflects the personal experience of my encounters along the way during the greatest Love In of the twenty first century. While I was dedicated to documenting the event that never stopped me from mostly being there, having fun, and the greatest contact high in fifty six years.

I know I should know who this hipster in the Panama is . . .
wait he should know who I am . . . oh well a couple of old
hipster's that can act like they know who they are . . .



Watch this remarkable movie by Linas Phillips a brave young hip film maker and dedicated dude "Walking to Werner" it contains a way cool cameo with Captain Wayne-O. Showing 9-11-O7 on the worker owned Red Vic's silver screen in the Haight Ashbury district of San Francisco, California . . . you'll have a chance to meet Linas in person . . . peace in our time!






[RanchoBozo] [SONGS] [ramblings] [CYBER BACKpack] [InTown] [COOL LINKS] [science]


In the morning our native shamen blessed the four corners of Speedway Meadows with whispy white clouds sage and prayers. The Great Spirit smiled upon our day with the brightest blue sky and a gentle warm sun. San Francisco rocked in oneness once again.


Mantra of the day:


Love is better than hate
Peace is better than War

Nobody is better than Anybody



Thanks Genevieve Elkin for these two great photos and these two cool videos!



the Lobster gives his benediction . . . and Dan tempts the buzzard








It was wonderful to have your own daughter enjoy what you are enjoying. There's nothing more family than family . . . Genna came to this because of me. Her boyfriend Kaz came because of her. They had a fantastic time too! Genna was a big help on this media project!

FIGHT HUNGER FIGHT THIRST . . . food and beverage vendors were located past the porta potties and porta atms on the south end of the meadow.






I found the smallest line at the artichoke stand. The stuffed crab and shrimp artichoke was delectable but hardly filling. Somehow it seemed to be enough food for the rest of the day.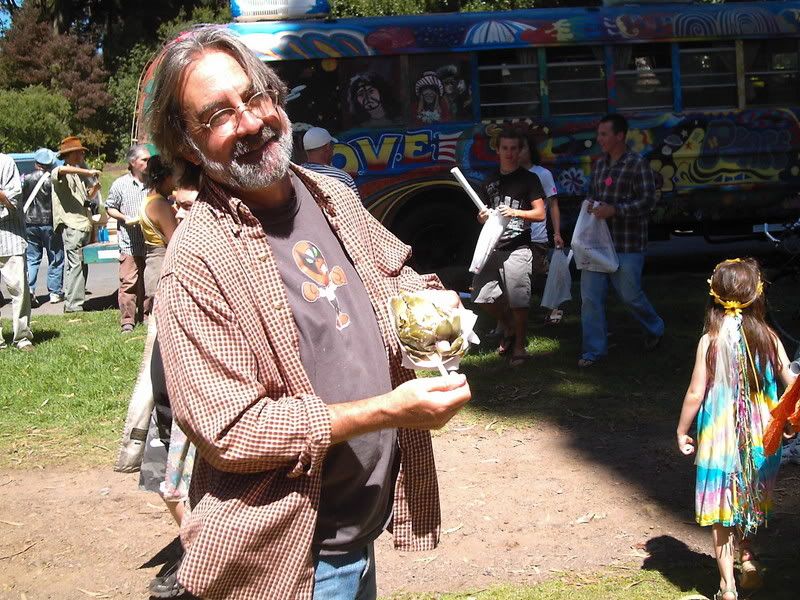 photo by Genevieve Elkin



I didn't push the right little button on my little camera and missed a great interview with Dan. I might be able to get a little audio up some day. Dan is the dude to the right. A big thank you to who ever took this picture.




I don't wanna cause no fuss . . .



HELP THE EARTH HELP IT'S SELF

Almost every old hippy likes what the environmental activists do until they do what they do to you . . . It's around dinner time. You're scrambling around the kitchen trying to find an onion so you can throw together a decent meal for the kids. Out of nowhere appears Save Troubled Species of the World at your door . . . it's not that funny when you actually 'resonate' to the cause but you really have things that you need to do right now. I always manage to scrape up five dollars or six if I can fish a few quarters from the crack in the sofa and then say (in earnest) "I'm sorry that's all I can afford right now but you can keep your news letter and I'll sign your petition . . . speaking of troubled species . . . I gotta feed my kids. Take care!"





The most beautiful activists I have ever seen happen to be the activists I got to march with. Our dear Captain is marching for the silent oak that through no fault of it's own is unable to march or speak for it's self. Once as an acorn the oak was mobile able to roll out of danger. Now as a mature tree, the oak remains stationary unable to avoid sudden death oak disease and chain saws. To make matters worse the spotted owl doesn't give a hoot.



Peace symbols made of stained glass and I like the bright orange umbrella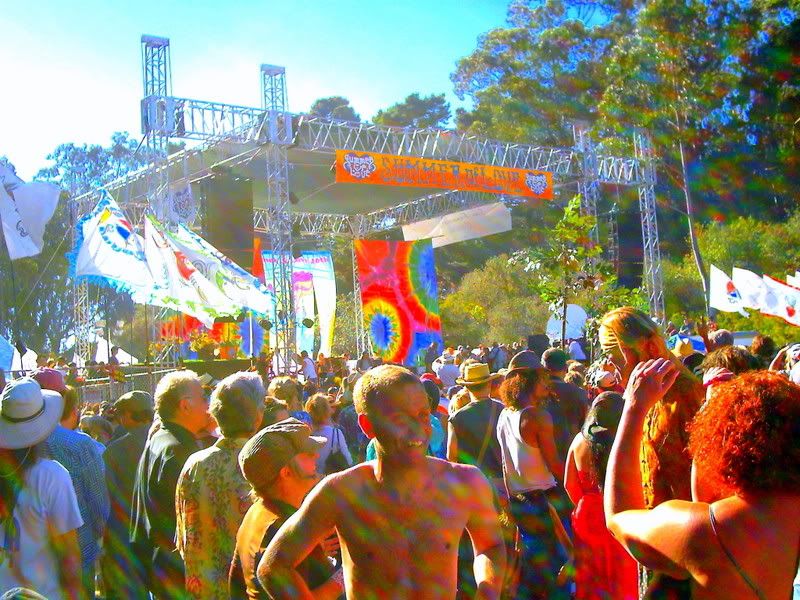 with just a little tweaking with color saturation and tint . . . turn up the gain . . . and it's '67 all over again!


It's the free who do their own thing that makes the happening happen . . . those who display their uniqueness for free . . . those who put the peep in the people . . . right on!




On my way to the meadow I met two men that didn't look much like hippies but I could tell they really got it more than most. They work for the Park and Recreation Department in the fair city of San Francisco. They take care of the many maintenance issues of Goldengate park. When there's a major event and I don't think there's been this major of an event in some time they take care of what ever has to be done. It's got to be a big job bringing the park back from the ravages of a super herd of bipedals. I too worked for the City not too long ago. It's really their good effort that allow these shenanigans to happen in the first place. Thanks again.




Picture this: You're at the Love In of all Love Ins, you're kinda tired, and the music's over. You're over taken by the feelings the day.



You think you just might have met Jesus laughing out loud in a wheel chair. So what you do? Do you run? Do you ask for forgiveness? I know what you do. You push him. That's what you do. After you talk to him about his idea for a new reality TV show.








After the music booming from the stage was over . . . the people's music arose somewhat a kin I imagine to the flourishing of tiny mammals after the gigantic dinos expired . . . I knew that this was a time when interesting things would happen . . . Roger Maurice of Bolinas played his flute . . . and I documented with video. He asked if I could help him carry some of his God Eyes that he crafted and sold. I said "sure". He said on more meditative days he visualizes calming the dragon in San Andreas Faultline . . . it has been said that love, meditation, and prayer keeps the world from self distruction . . . who knows?


till dusk do us part: the last of the troop heads north toward the Haight . . .





A special thank you to all the beautiful people I photographed! I'll post all the ones that turned out OK * just click HERE. Depending on your browser down loading should be a snap.